Teaching at the University Hospital of Essen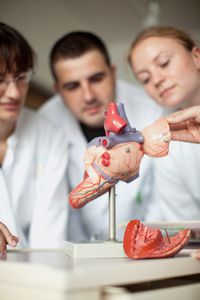 The Medical Faculty of the University of Duisburg-Essen aims, by means of its scientific and practical training in medicine, to prepare young doctors at the University Hospital of Essen (UH Essen) and its associated establishments to behave and act to high standards of professionalism in a manner which is self-reliant and independent. For more information on studying medicine in Essen, please click here.
The campus nature of UH Essen with all essential facilities in a single location - clinics as well as pre-clinical academic and clinical institutes - makes it a great place to combine academic and practical knowledge from the very outset of the course. While doctors provide basic knowledge about the structures and functions of the human body, they at the same time also teach corresponding clinical content in order to illustrate the relevance of acquired theoretical knowledge.
In clinical training, in-depth small-group teaching complements clinical theory tuition, primarily in block internships. In a new teaching and learning centre (opened in Spring 2014) we also complement practical training by building a dedicated Skills Lab and an exceptional patient simulation program for creating realistic patient interactions into our teaching curricula and for conducting practical examinations (a.k.a. "OSCE exams").
Students at our faculty have the opportunity to complete their training as part of their internship year at the University Hospital of Essen or at any of 16 academic teaching hospitals of the Faculty of Medicine. For details of the "IY", click here.
The Medical Faculty has interdisciplinary links to other areas of the University of Duisburg-Essen, in particular the Chemistry, Biology & Geography Faculties and Chair of Healthcare Management at the Faculty of Economics. The Medical Faculty is involved in courses run by all three faculties. In addition, the Medical Faculty itself also offers a postgraduate course in "Pharmaceutical Medicine".
Contact:
Prof Dr Joachim Fandrey
Associate Dean of Learning & Teaching
Tel.: +49 (0) 201-723-4600
E-Mail: joachim.fandrey@uk-essen.de