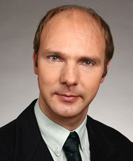 PD Dr. rer. nat.
Lutz Lüdemann
| | |
| --- | --- |
| Staff Directory: | PD Dr. rer. nat. Lutz Lüdemann |
| E-Mail: | |
| Office: | Andrea Saemisch |
| Phone: | 0201 / 723 2091 |
| Fax: | 0201 / 723 5728 |
| Homepage: | |

The Section for Medical Physics, Technology and Informatics is an integral part of the Department of Radiation Therapy. The co-workers of the Medical Physics Sectionassure the safe and effective application of radiation in medical oncology. This ranges from treatment planning to delivery of treatment, to quality assurance. An important task in planning radiotherapy is to ensure an optimal dose distribution. State-of-the-art quality assurance management structures have been established for regular monitoring of the irradiation equipment and its operation and for daily checks of nominal doses. These measures serve to ensure the safe delivery of radiotherapy in all aspects of patient management.
Another task of medical physics experts is to implement new procedures and to test new radiotherapy systems and other equipment. They are responsible for checking whether the manufacturer's specifications and applicable standards are met. Newly installed irradiation systems must be calibrated in order to ensure high-quality treatment and patient safety. Besides this routine work, medical physicists conduct research aimed at developing and testing new methods, procedures, and techniques. Research and development projects conducted by medical physicists at a university hospital often involvephysics or medical physics students conducting research for a bachelor's, master's, or doctoral thesis.
If you have any questions, please do not hesitate to contact us. Our staff will be pleased to help you.